Introduction
Hello everyone! As many of you know I did not find seasons 2 and 3 of Tabaluga as good as the first season. But not so many aware of how much suffering they brought to my life. To say that after being tremendeously impressed by season 1, which almsot instantly became my favorite series as I saw it I was disappointed seeing seasons 2 and 3 for what they were would be a huge understatement.  Where is season 1 inspired my whole life, seasons 2 and 3 almost flushed it down the toilet. And don't think that I was sceptical about these seasons in the beggining. Oh trust me, in the first years I saw them I still considered them a part of the main series and religiously defended them, always trying to see meaning into them, intellectual morality messages they contain. But the more I watched them,the more I realized how deeply flawed they are, how careless the creators were when they were making these new seasons. And while it is an official continuation of the series, the changes in the world, characters, and huge plot holes and goofs say otherwise. Here, in this review I present you a deep analysis of the whole new series(2002-2003, and Tabaluga& Leo movie is not included because it's somethign a little different) flaws. From tiny flaws(which I often call "silly stuff") which many of you may call nitpicking to major flaws and plot holes, something that can't possibly called nitpicking. Notice, that I avoid some goofs that are similar to season 1 goofs. While I do consider season 1 masterpice, I'm not implying that it's perfect, it still had flaws and even plot holes within itself, only... if you multiply these flaws by 10 or 11, you get seasons 2 and 3.
Side note:
I would really like to thank
HamtaroFlower
(one of the newer Tabaluga fans) for providing me with seasons 2-3 episodes. Thank you Anna! Without you this review would not have been possible  

Hamtaro's accounts:
On Tabaluga original forum:
http://tabaluga-fans.forummotion.com/u59
On Deviantart:
http://hamtaroflower.deviantart.com/
My flaws review will be devided by several categories
1 Artwork
2 Characters
3 Minor flaws\silly stuff
4 Major flaws, parts 1 and 2
5 Plot holes.
Since I'm not a professional reviewer, pardon me for making mistakes in identifying which flaw goes in which category sometimes
Also another note - since usually it will be hard to understand which screenshot is from where, I highly recommend everyone watching seasons 2 and 3 before reading my review. Also another small note - be warned! I will be harsh to these seasons, just like their creators were harsh with the sourse material.
Without further ado, let's begin
Artwork.
All right, I'll be honest here. Artwork in my opinion is THE ONLY thing that really got better in this series and gets praise from me at many points, both on background and character animation. A lot of stuff is just beautifully done.
But even though I realize that it has been years since EM Entertainment\Flyingbark made a Tabaluga series, and they probably hired new artists, which resulted into change of animation style. My only big complaint is - why redesign the characters so much?
As you can clearly see, all dragons are missing one bone in each of their wings in the new seasons. The dragon wings in season 1 were small to begin with, why make them EVEN SMALLER? In my opinion, in season 1 Tabaluga's wings were just beautiful, and would be even more beautiful if we saw him growing up(adult Tyrion's wings looked amazing), but instead they got smaller and flying for Tabaluga became even less realistic
Look at Tabaluga's paws! He's what, a Teddy bear now?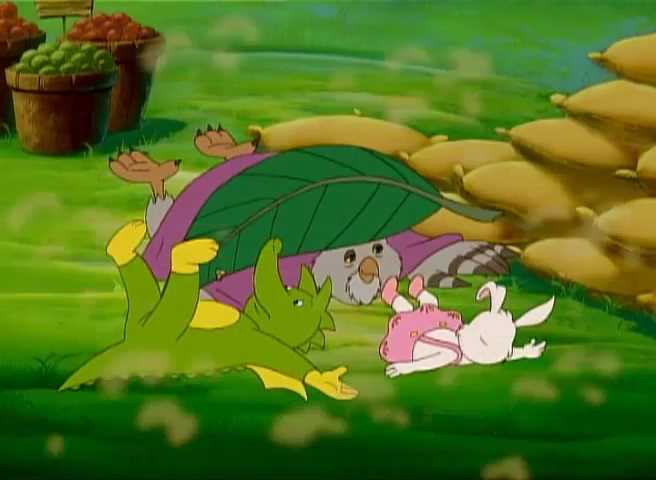 Something Sure happened to the stonehendge, because I remember it looking differently a few episodes ago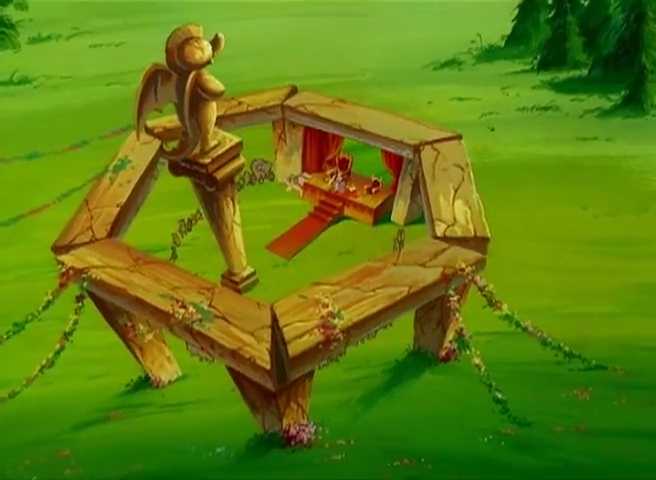 Also, how was the Tyrion's statue built? When? it is never explained. Never mind, moving on.
Salamanders in the episode are almost  as big as Tabaluga, but also as big as Kayo. Are they saying Kayo is almost the same size as Tabaluga? Usually looks like he's about 5 times smaller. Looks to me like they messed it big time
The Book:
The book is as big as Tabaluga's torso. And yet in most episodes he carries it in his pouch which takes only half of his torso or less.
The Fire: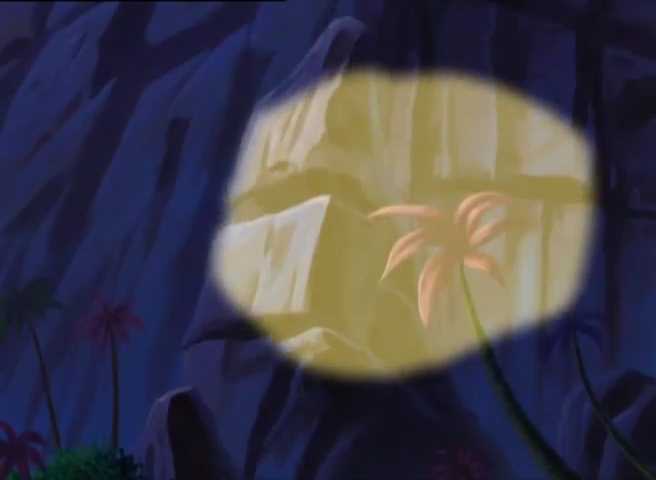 I'm pretty sure that open fire lights objects differently(season 3 episode 4)
Last edited by TabalugaDragon on Tue Aug 16, 2016 1:57 pm; edited 9 times in total
Characters
Ok... this is one of my biggest complaints about the newer seasons. In season 1 most of characters were serious, strong and smart. At least compared to their versions from seasons 2 and 3
Digbe
Ok, can someone explain to me WHY would they make a relatively smart character, the "I know I'm right" one to a complete idiot, a comic relief? Honestly, this is beyond my understanding. He wasn't just dumbed down a bit, he was completely reworked and turned into a mentally challenged person, who makes mistakes in simpelst situations.
Here are some examples
- drops ice cream on himself and thinks that winter is coming: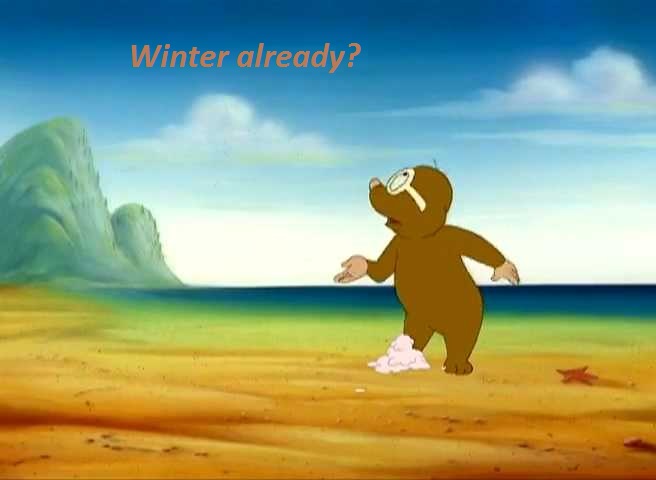 -gets scared by Happy's cream when it's not cold at all: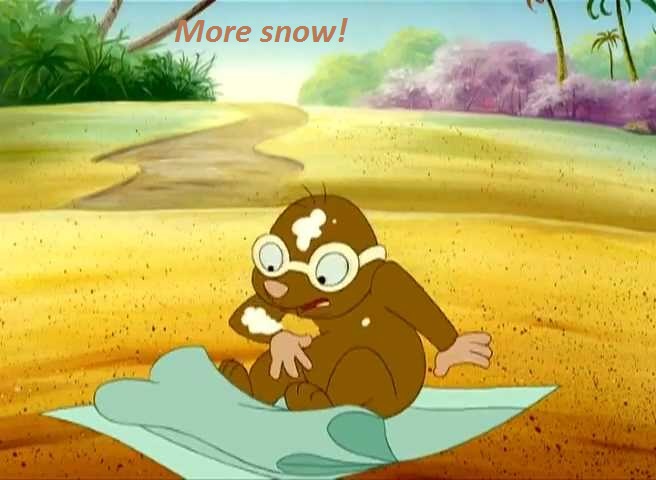 -hits himself on the face: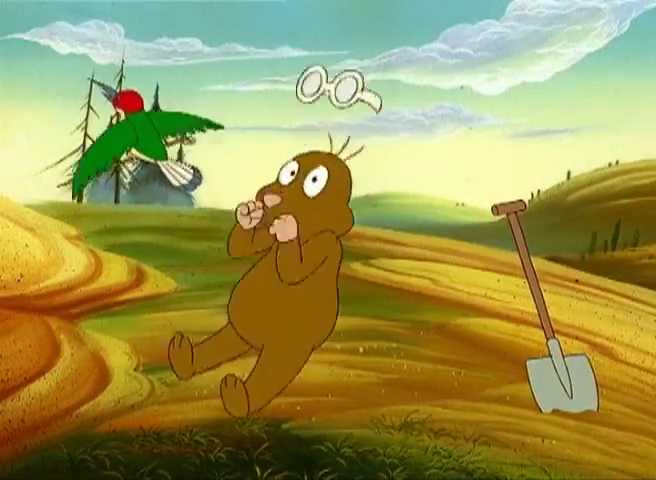 -hits against a tree while wearing glasses:
Remember this from season 1?
Digbe sure doesn't and decides whether or not to trust Arktos by flipping a coin. And I could understand about building an nice park, but later in the episode he decides whether or not to save Tabaluga! What kinda friend is this?
- accidentally spills a dangerous potion into a carrot juice(sorry, no pic for this one).
Digbe hits his own hand! Oh, a typical Digbe from season 1, right?
-almost drops the egg: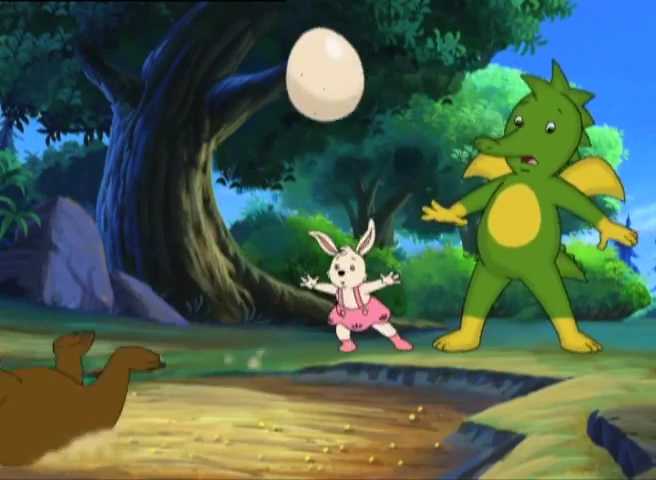 Oh look, the idiot Digbe is back!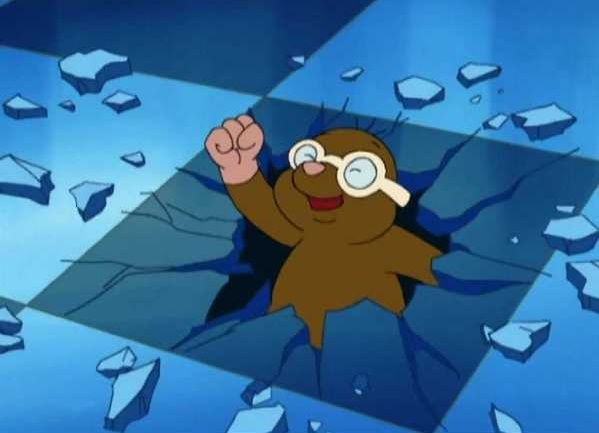 Pity he's gonna be captured by Arktos because of his stupidity.
In the episode "Who is who" Happy and Digbe are surprised seeing walking bushes. They really think bushes walk. After… how many  times seeing James doing things like this?
Tabaluga
Even though Tabaluga's character probably changed the least of all, he still suffers from the really bad writing in these seasons. The way he acts sometimes is beyond my understanding.
Here are some examples
Sand feals episode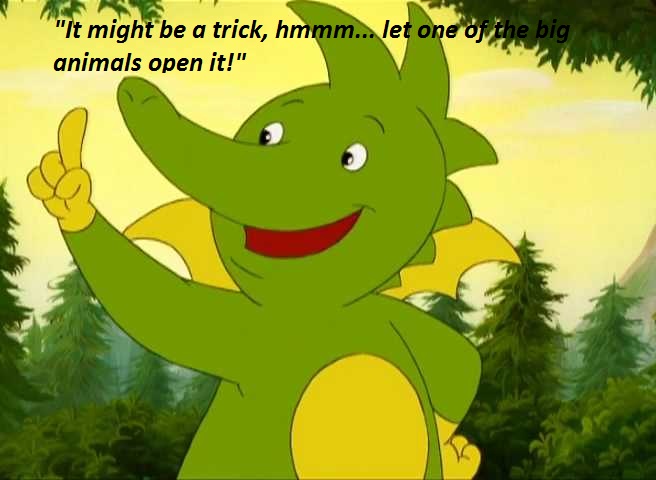 How nice of him! Yes, let's risk someone else's life instead, even though you have a much harder skin.
Such script would fit for a comedy, not for a serious show, Is Tabaluga supposed to be a douchebag in his scene?
-Throws a bag at Vulture which makes him fall and they all burst into laughter. How nice of Tabaluga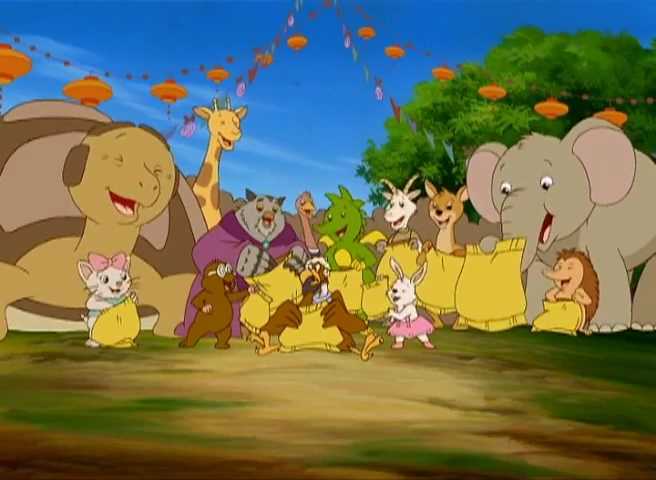 So Vulture was not only hurt because of the fall, he was humiliated in front of everyone. Because yeah, that's what Tabaluga would really do.
Arktos
Here's another character, that suffered some of the worst changes in these seasons. From intimidating, scary tyrant who kept Ice World in fear and posed a huge threat to Green Land all the time he was turned into a comic relief, a joke, a clown.
Behold! The mighty tyrant! Oh wait, wrong season….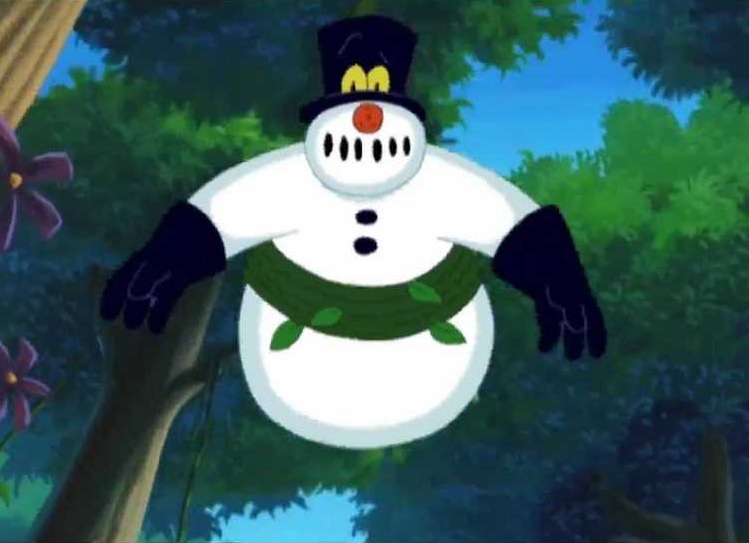 Butterlies.
SCARY!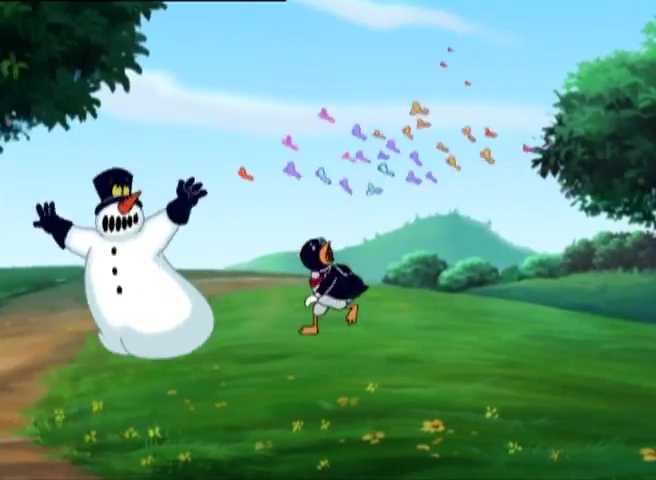 I will include more complaints about Atktos later, but in Minor Flaws and Major flaws categories, because they have more to do with writing overall than just with Arktos in those episodes
Last edited by TabalugaDragon on Mon Aug 15, 2016 1:55 pm; edited 1 time in total
Minor Flaws\Silly stuff
As a lot of you could have noticed, that the show became far less serious in seasons 2 and 3. Not only that, it is most often(in fact almost all the time) a comedy, where is season 1 was mostly serious with little humor in it. If they wanted to make a Tabaluga comedy, they should have made a seperate series, not an official continuation of the original one. There is also a lot of "Cartoon logic" that rules the series now, while in season 1 it was almsot non-existent. Characters in seasons 2 and 3(especially Kayo) are often subjected to a lot of deadly harm and they are totally fine after that. In season 1, anyone could easily die, hence why Tabaluga cared about them so much. Remember episode in season one called "Mister Nice guy"? Well, in that episode when James dressed up as a clown and came to Green Land making jokes about Greenalnders and fell on the ground by accident. EVEN THEN Tabaluga cared for his safety and said "Careful, you'll hurt yourself!" and helped James to stand back up on his feet. In short - I have a lot of things to complain about in seasons 2-3, and the complete light tone(with the excpetion of a few episodes like "My baby") is one of them. You can't just turn a serious and epic series into a comedy for crying out loud!
In this list, I will describe silly and illogical stuff, that isn't teribly bad, but definitely doesn't fit into what a season 1 successor should be.
Really?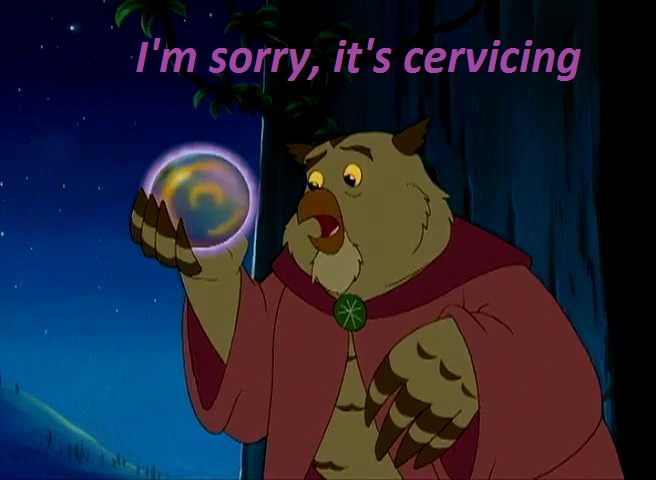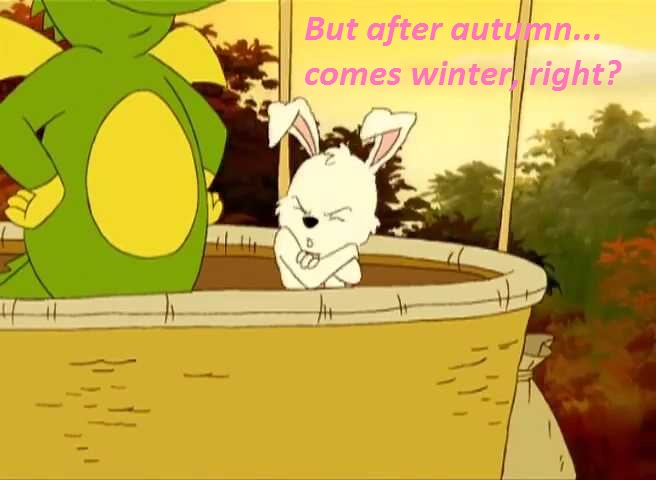 Says a snow hare who came from Ice World
-chameleons don't live in deserts, they live in tropics, and yet Kayo is jsut fine living in a desert. In season 1 things like climate for certain creatures was adressed.
Vulture tries to steal vegetables even though in season 1 he clearly ate dead things. And even in season 2 in an episode where Tabaluga nurtured him to health he ate insects. Also, didn't he and Tabaluga become friends in episodes before? And nice, he's in a bully mode again for plot convinience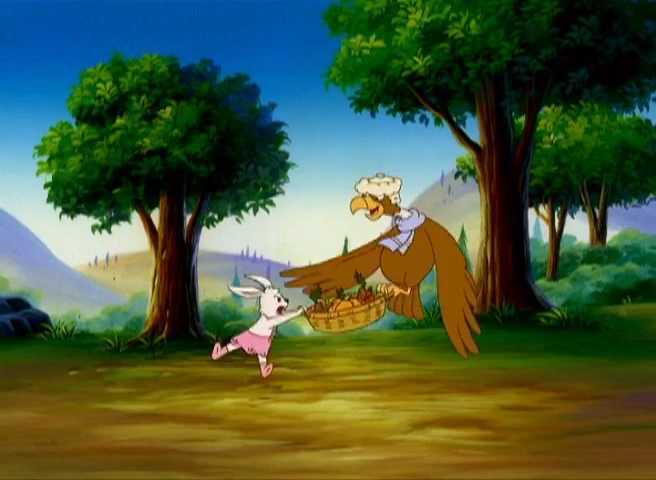 No… just no…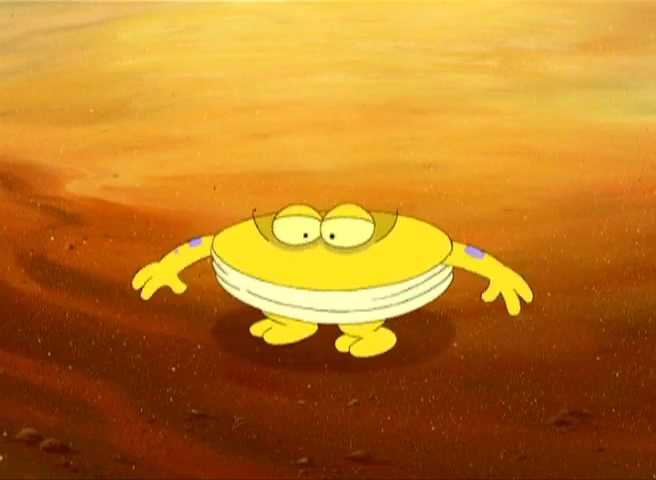 Arktos breaths ice in the air and the ice ball just gets stuck in there. What?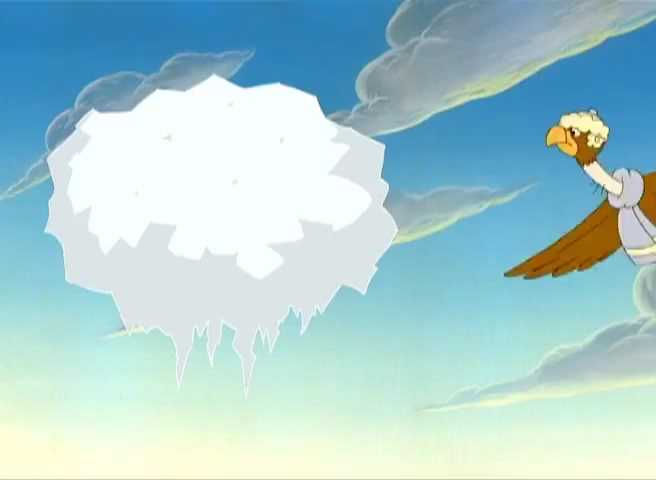 Reptiles don't sweat nor shake when they're cold. Looks like the creators had problems with biology at school.
Tabaluga could be an exception because he's a different creature.
So… Arktos has blood now? I didn't see it all those times he melted his snow away

Yes, let's add farts to one of the greatest shows of all time. Because this is what a Tabaluga series needs, right?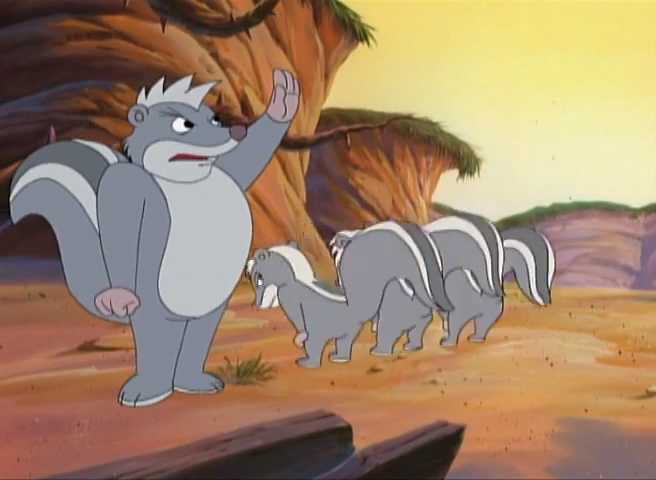 Also skunks don't fart just because they feel like it. It's a defensive mechanism. Which makes this scene even more ridiculous and unnecessary
Kayo just doesn't notice them standing right there almost in front of him:
Wow, rats are MUCH stronger than I thought. A single rat caught Shouhu.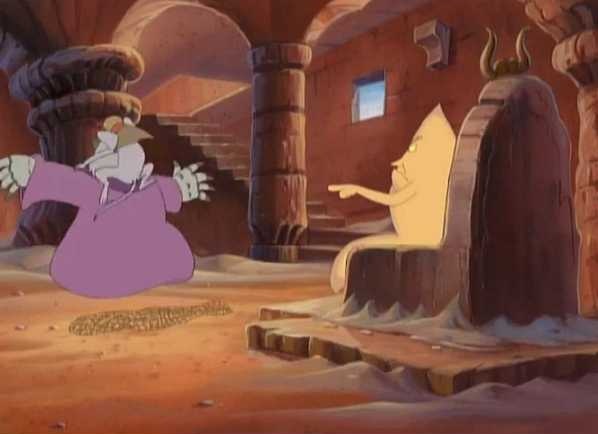 Breaks the door, the door stays. I guess Tabaluga has a new superpower now we don't know about.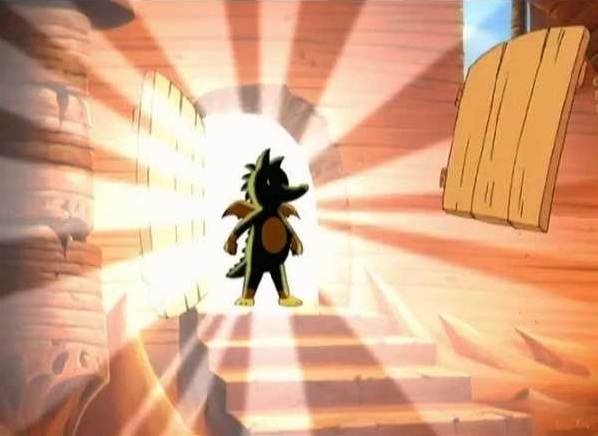 -Ice statue in one scene, an ice cube the other:
Tabaluga is surprised he's the next dragon to receive the dragon pendant. Oh are there any other dragons on his mind?
Kayo is almost completely ok with being in Ice world. So this tropical lizard is not only resistant to severe desert heat, but also to arctic level cold?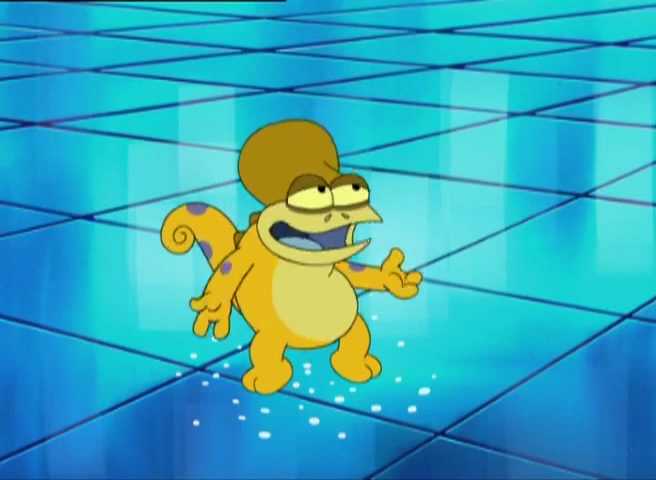 Yes, all we need is more cartoonyness in the epic series about the last dragon on Earth!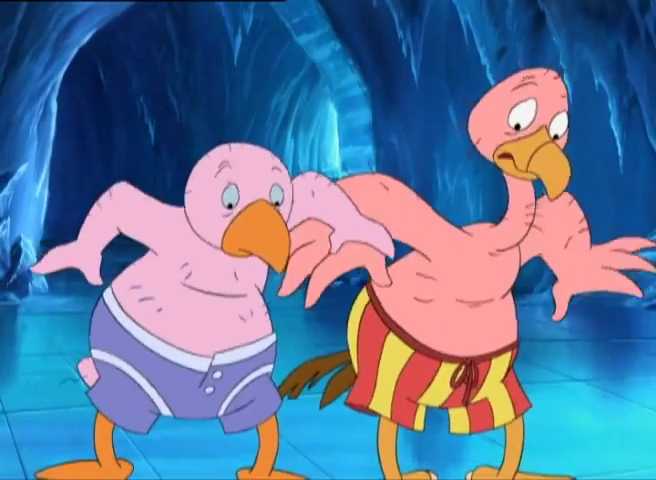 Looks like the same waterfall Humsin fell into and died. So… Kayo is immortal? He's been squashed, burned, should have been crushed and drowned here, but he's always perfectly fine.
Kayo runs away instead of using his hiding skills which he demonstrated to Arktos so proudly a few minutes ago: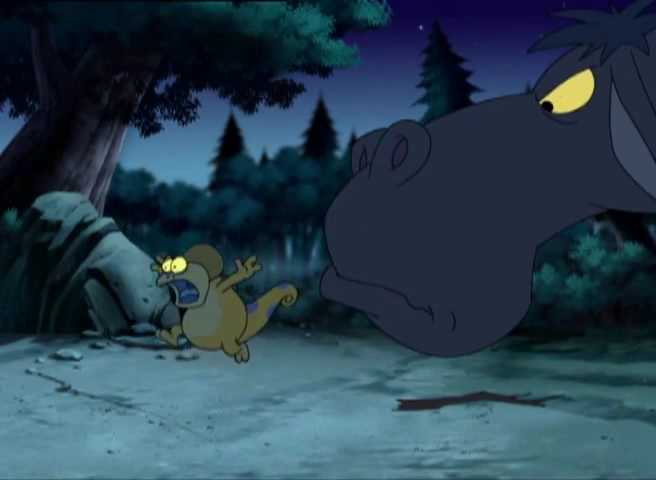 How nice of Tabaluga to scare Digbe like that. In fact it's completely irresponsible. You can't make someone run over an insecure bridge! What if he tripped over and fell? What if a section of a bridge broke under him?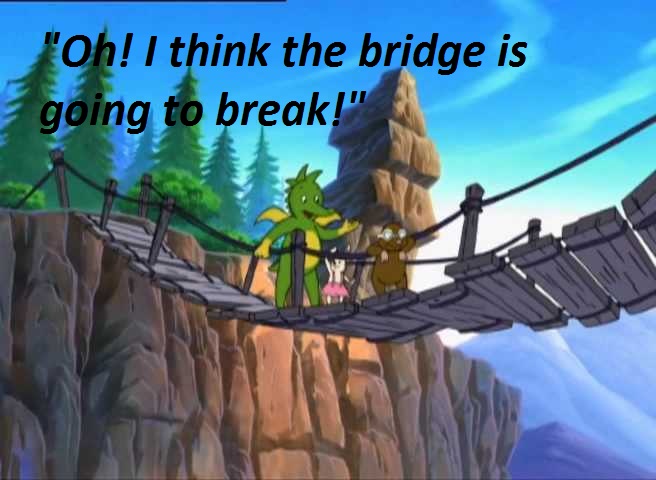 So, Shouhu can create dragons now? Who needs Tabaluga then? What a sneaky owl.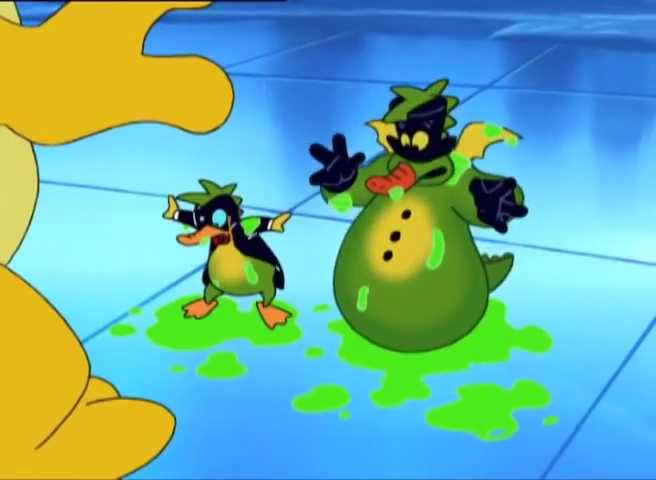 Welcome to Tabaluga, a looney tunes show!
Do you really need this huge propeller for that? Considering that one can just blow air inside it with his mouth - you don't
This scene…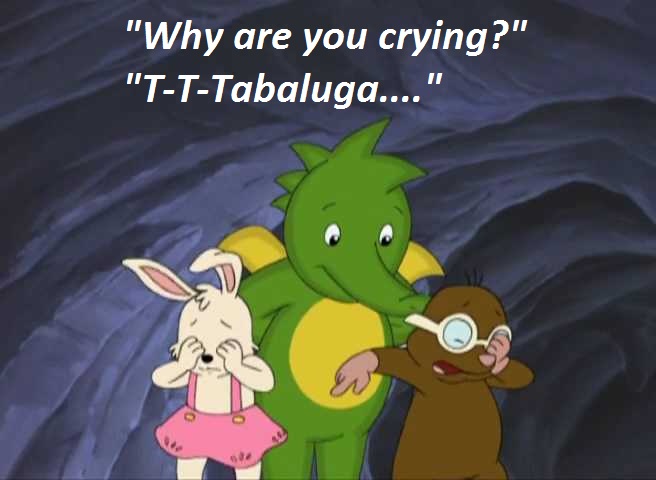 A snowman is shaking… of cold.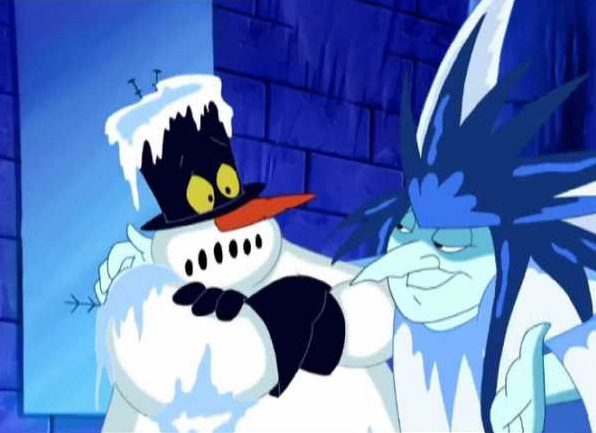 These seagulls picked Digbe up for absolutely no reason. The only reason – the story needed a way to waste their remains of water.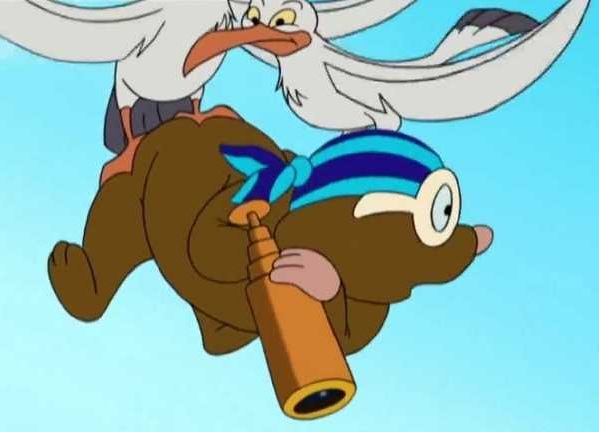 Happy doesn't notice there are glasses on her face. Because yeah, Happy wears glasses all the time and got used to them right? Oh wait...
Kayo was behind the building. He couldn't possibly have gotten hit by this ball: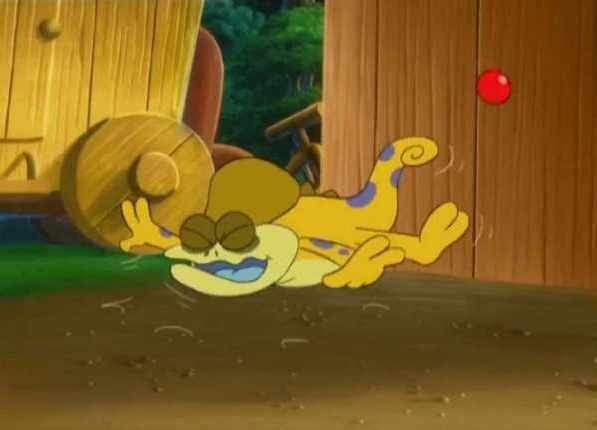 Shouldn't a rock that fell from the sky be super-hot?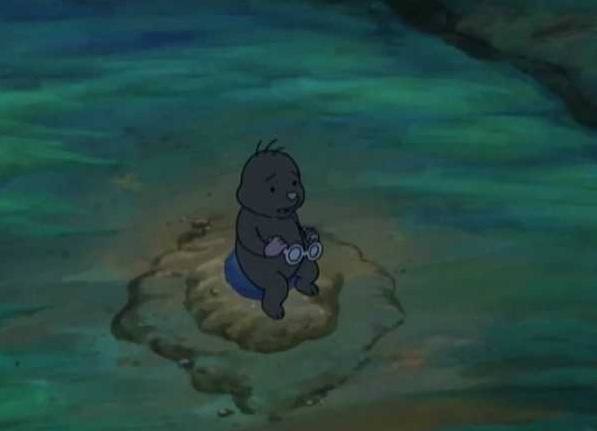 Wouldn't it squash the ice sign along with Tabaluga?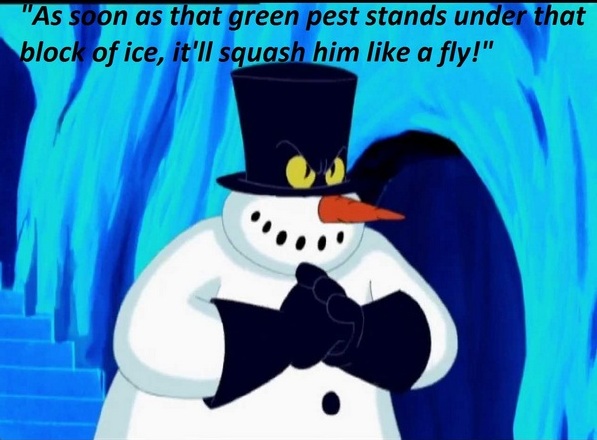 I know the polar bears were never the smartest in this show, but… really?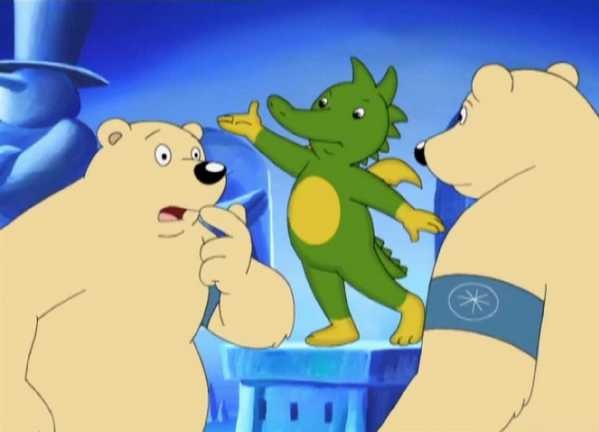 A typical cliché of a villain's trap failing, so he jumps over it and catches himself. Seen it WAY too many times in other cartoons, there was also a similar joke in the last season. And he does it TWISE this episode.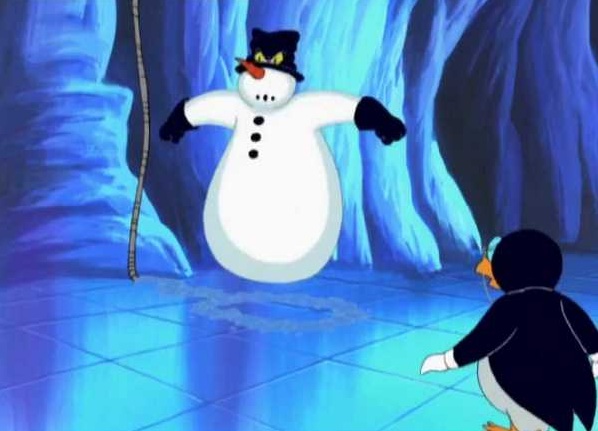 Happy just doesn't notice Kayo and colors him too.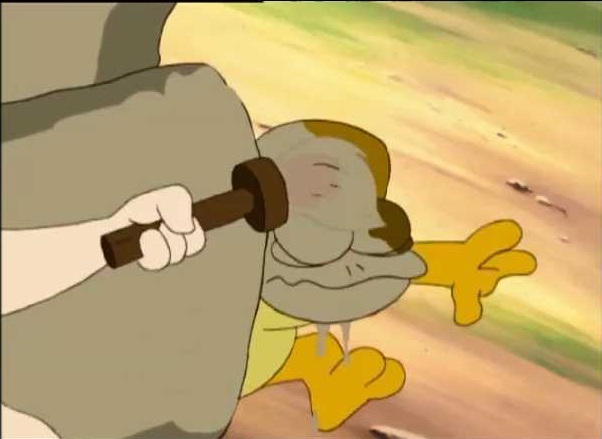 Digbe jumps into the bushes for no reason during his jogging. He doesn't trip over anything, he just makes a jump in there.
Tabaluga makes fireballs and they leave hanging there for a few seconds. No, just no...
All hail Atktos's "imperial bot". How nice, a "butt" analogy. This is what we needed in Tabaluga series right?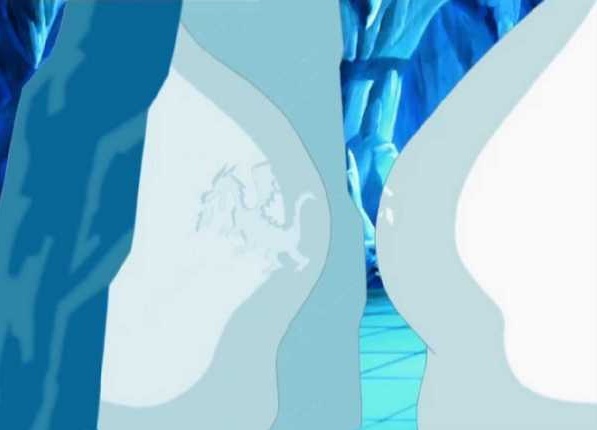 Last edited by TabalugaDragon on Mon Aug 15, 2016 2:04 pm; edited 1 time in total
MAJOR FLAWS
Part one
Here comes one of the main reasons I hate these seasons so much.
If minor flaws in these seasons merely repeats(and multiplies by like 10 times) the flaws that season 1 had, the silly stuff that did not have significant impact on the story, then the big flaws in seasons 2 and 3 are downright stupid, immoral and completely ruin the epicness and magic season 1 had. In this list, I tried to combine(except for plot holes, that will be another part)everything I don't just dislike, but hate, absolutely can't stand in these seasons, so much that I deny the fact that they are canon to the main story.
Let's begin
-total mess with seasons. Once episode it's summer, another it's spring. By the end of the season how many – 5-6 years pass? I don't see characters growing up. I noticed at least 5-6 times the characters were gladly meeting a new spring. Yet we don't see anything changing. They just love spring, don't they?
And don't even get me Started on "Tabaluga's good fortune" episode. Aside from a good message never to give up, a pile of garbage from start to finish. They never saw anything specific in the crystal ball. Humsin never saw destruction of Green Land, just some rocks falling from a hill. Greenlanders never saw it either and already got desperated and started leaving their land, because of what? Because they saw some rocks falling in there somewhere? I mean I could even understand them, but Tabaluga, one of the smartest characters in the series believed that too? And when he saw "what happens to him if he tries to stop Humsin" all he saw was him getting caught by a sandstorm, but he reacted on it as if he saw his death. After pushing a huge rock for a very long time, Humsin and his followers need a sign pointing at Green Land to know where it is. But even if they, say, have terrible memory, ISN'T IT EASIER TO JUST TAKE A LOOK? WHY do they need a sign for it? Plot convenience, that's why.
For people who don't agree with me here, I suggest just to watch that episode again. It's super ridiculous.
-Tabaluga openes the stone and releases sand fleas into Green Land. The exact same mistake he did with Arktos and locusts, in the episode where it was all about learning from your mistakes. And the worst thing - it was written by the same writer who wrote "A Fatal present" season 1 episode - David Witt. I was a little disappointed in him here to be honest. He didn't make the best season 1 episodes but still
And this scene?
No comment…
One of the greatest things about season 1 was chess, and it was completely taken away. Who in the world thought it's a good idea to take out the most intelligent part of the show? For me chess was one of things that made season 1 so great, and they only return to it once, and in a completely illogical way(see further)
- the ostrich who works for Humsin is completely ok with still working for him after he kills her baby like nothing happened
I mean how come a caring mother is ok with this guy killing her baby? "My baby" was an amazing episode written by John Palmer(One of the best season 1 writers)and it was dark and tragic. But it didn't fit the season 2 style at all, and as a result - it's events are completely ignored later. We never see any reference to those children or those character's mates ever again.
-in the episode "Kidnapped" it was completely irresponsible of Tabaluga to leave the little kids unsupervised. Even if he was sure nobody could kidnap them, they could have run away. Also yeah, Green Land is a great place for little penguins. In season 1 penguins couldn't stand the heat of Green Land for long, especially the children. Here they seem totally fine with it
-the opening song is shortened by repeating "this is Tabaluga, notice how he's kind of small and green" in the end, which sounds pretty ridiculous. And they completely got rid of the most beautiful part of it – ending "Together we can do it somehow"
-the series keeps repeating the same jokes. Like the one when James suggests something to Arktos, Arktos does't listen, then says the same thing James suggested, James praises Arktos for coming up with something so smart, I counted at least 6 times this joke was used. THIS WASN'T EVEN FUNNY THE FIRST TIME! Why do they keep doing this?
Tabaluga makes Kayo fall off a plane. Zero concern for Kayo's safety, doesn't even try to save him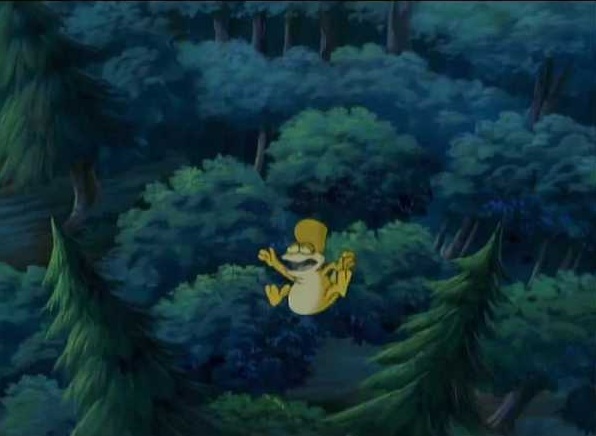 Just remidnign everyone here - in season 1 every time an Arktoplan was falling or someone was fallign from it Tabaluga was concerned for their life. Here? who cares about a little stupid lizard right?
Who are they? Why for 12 episodes we never saw them before? Oh I get it, they needed a story for an episode, not for a season. Sure, makes sense.
How about flying up you idiot? Nice artwork of face though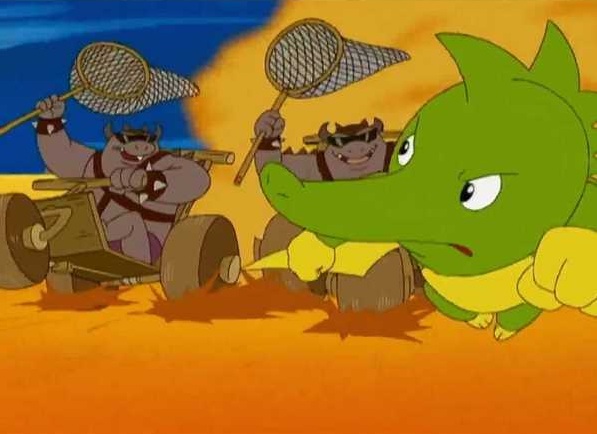 Happy hits herself assuming it's because Buzz distracted her, but it's her own fault because she wasn't looking at what she's hitting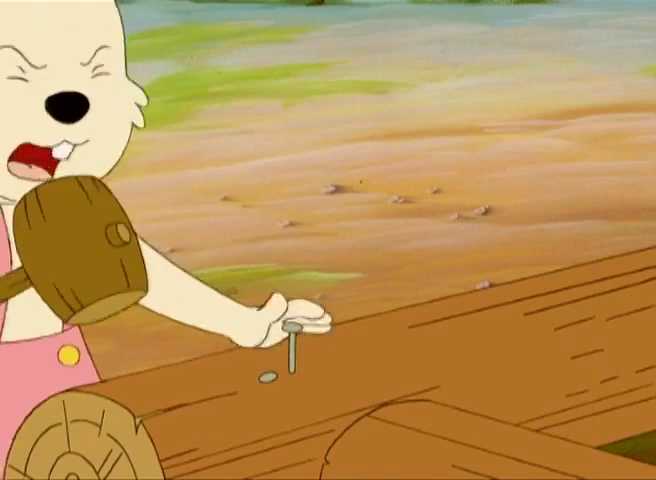 A powerful dragon gets captured in a normal sack and can't get out of it. Quite pathetic

In season 1 he got out of a similar trap burning his way out of it.
Yes, tell EVERYBODY about your flute! It was for once actually a good idea – to capture Humsin with the help of thunderbird, then hide or break the flute so no one would use it again. But of course, they need to show lessons through this cartoon even though the price is to dumb down many of the characters. Nessaya DID warn her about the flute falling into the wrong hands, but what am I asking from a season which was obviously made for education of preschoolers, not for showing a good story.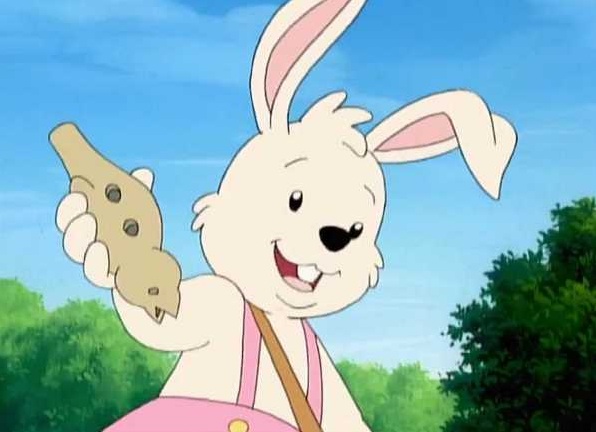 Yes, jump away from this huge ball rolling on the floor with a huge speed. Oh wait….
So… they broke the crystal ball not just because someone dropped it, but because they were afraid a small glass ball would hit them instead of catching it?
This picture describes the situation quite well
Which one of them is real? MAYBE THE ONE WHO MOVES AND HAS ICE BREATH? Are they(including Tabaluga) are seriously having a problem of figuring this out?Even James who spent years with Arktos and can easily recognize his voice? Beyond ridiculous. I saw such thing in some other cartoon long ago, and even as a kid I thought it was incredibly stupid
This bull is a terrible person. Even after he knew it wasn't Tabaluga who burned his flowers, he didn't even apologize for hurting and almost killing him
-In "the scrying game" episode Tabaluga and Happy must answer a riddle to gain access to another crystal ball. So, after some thinking, they answer it, but GOSH it was one of the easiest riddles I've ever heard(and that's saying something coming from a guy who is terrible at riddles). And I understand that they could have trouble with it but… it was said that Shouhu couldn't figure out the answer. The smartest character of the show couldn't figure out the answer for an incredibly simple riddle for thousands of years! years!!!That's one of the most illogical things in this series, and and says a lot considering what show(a season to be precise) I'm reviewing.
So, James is having a trouble of keeping the arktoplan in the air. He carried lots of polar bears and seals on it before, but a tiny lizard on the arktoplan's bottom makes it incredibly heavy all of a sudden. All this silliness so Vulture was valuable for Arktos.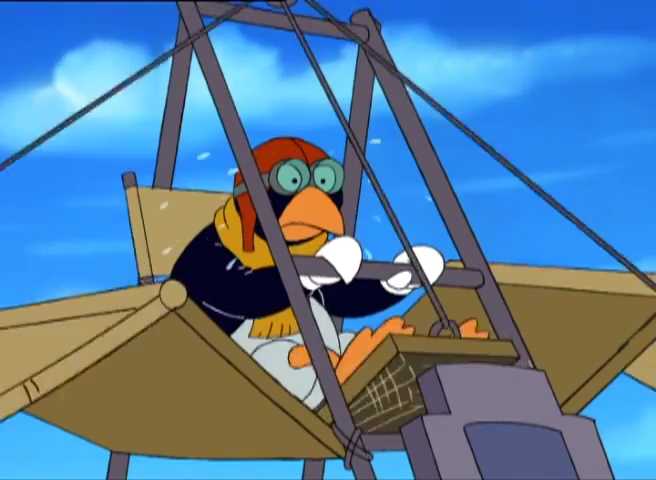 Arktos asks James to blow wind at him because he's too hot near the fire, to cool him down. IT ONLY WORKS IF THE OBJECT IS IN POSITIVE TEMPERATURE! *facepalm*
Blowing more warm air at him would only make him melt faster!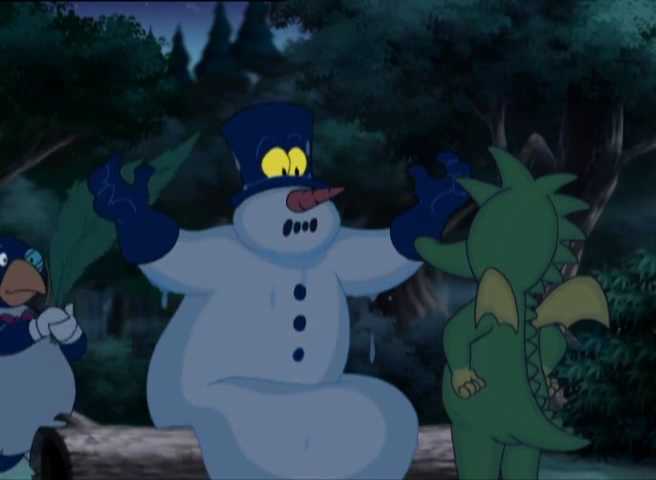 Also how come Arktos doesn't melt away completely? James obviously didn't take any ice spray with him this time.
Just a
https://youtu.be/SeDVNgsYy0k?t=4
Super dumb Happy, nice to meet you! She KNEW Tabaluga was down there and still started sweeping the floor.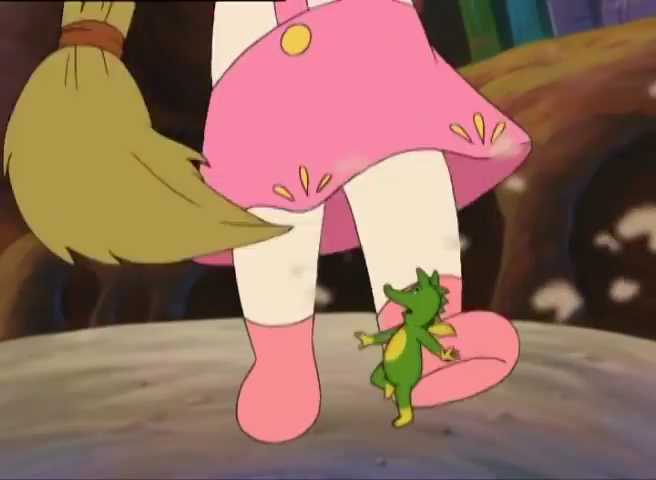 Tabaluga just runs over this anthill. He doesn't know that ants live in such hills? Wasn't he the one who protected an anthill the last season?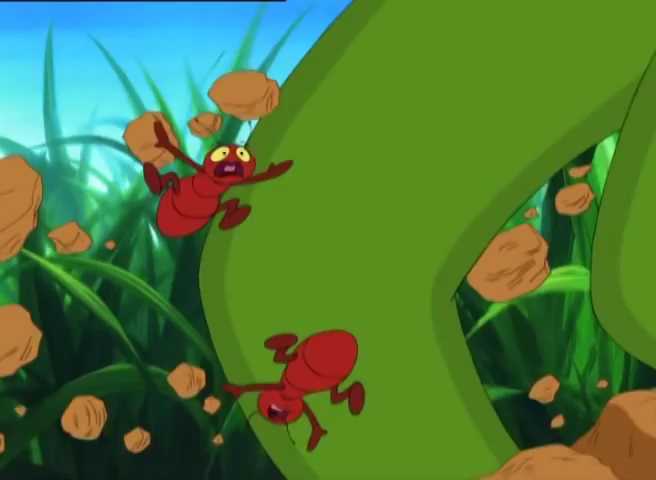 Says Arktos after James is taken away by a tornado…. *sigh*
In season 2 there is an episode where Tabaluga accidentally melts sand into glass. When he questions Shouhu what it is, Shouhu answers "It's called Glass, Tabaluga"
Because it's not like... YOUR WORST ENEMY'S CASTLE IS LITERALLY CALLED GLASS TOWN. No, what was I thinking? Of course it's something Tabaluga never even saw or heard of.
Yes, or it can make Tabaluga's condition worse. Good advice, oh wise and old owl!
Tabaluga is having fun while Arktos is melting away(shown right before this scene). I know he doesn't care about Arktos, but doesn't he care about the world balance as well?
Arktos threatens to freeze them if Tabaluga doesn't give him the information about the next sign. But why? Arktos froze Tabaluga's friends before(including Digbe who was kept frozen for quite a while) and nothing happened. Tabaluga could just blow fire at Arktos instead and his friends would be fine. Arktos wouldn't be able to freeze Digbe and Happy so fast with Tabaluga's flame being so close. Moreover, in the next episode Tabaluga finds a bear that was frozen for a long time, unfreezes him and the bear is totally fine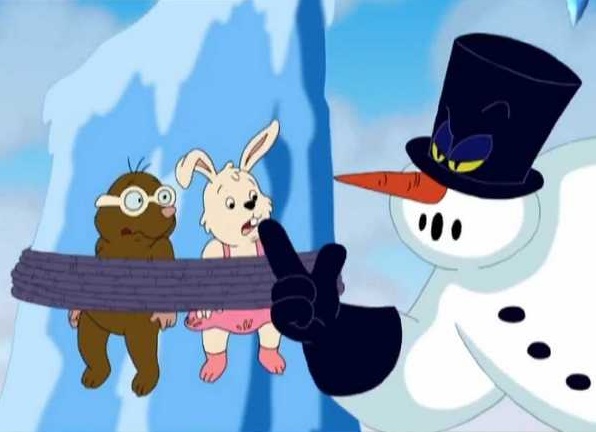 Tabaluga… you do know that you can get unleavened water just by melting the ice which surrounds you here right?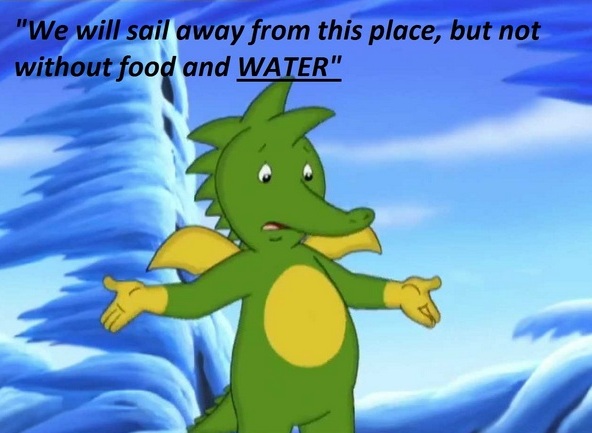 Even Shouhu mentioned it in one of previous episodes.
The Ice witch used instant freeze powers for everyone else, but for Tabaluga she just creates some big ice ball he has time to blow fire at.
Look… I understand that Arktos is a treaturous bastard., but he just beat the witch when she was at full power, and now he can't keep her frozen while she's trapped and weakened for a minute more? That way he wouldn't risk Tabaluga trying to steal back the clue about a sign from him because they would have a deal. But now when he broke the deal Tabaluga has a right to steal that paper back.
Also a snowman is sweating... not melting, sweating.
Arktos actually repeats that after Tabaluga. I know he isn't smart but this… this is just too much when you can outsmart a villain THAT easily. Isn't the main villain of the series supposed to be a little more intimidating?
If the main villain of the show is THAT easy to outsmart, he isn't very dangerous, is he?
Yes, the wisest character in the series. Tabaluga really shrank…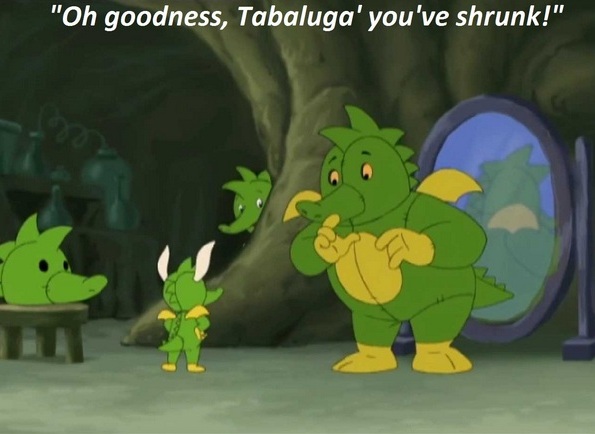 Digbe goes to Ice world to help Tabaluga with digging, but you can't really dig a solid object. But…. Digbe proves me wrong later and digs ice as if it was normal soil… Good job Digbe!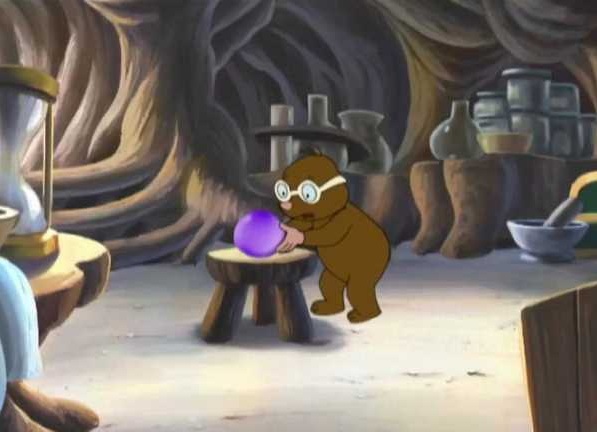 We see that lots of cold air comes out of the ice chamber. But how? Those were just mice in a closed room. They made it look like there was some kinda monster in there
Tabaluga is carrying the sign with his bare, hot hands, so it's melting. Wouldn't it make more sense if someone not as hot, like Shouhu cared it, or even Shouhu wrapping it into his robe so it wouldn't melt? Too much to ask for I see.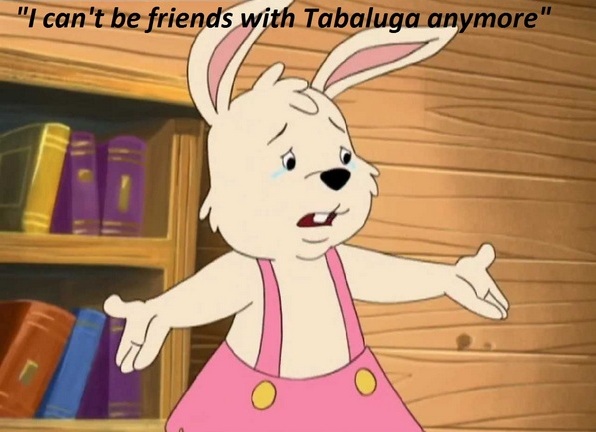 Because he failed you ONCE? After saving your life so many times, after being such a great friend for all these years you don't want to be his friend after him not keeping a little promise?  And he didn't even know something serious would have happened. That's one insecure friendship right here. In season 1 even Leon who was sent to break their friendship failed. Their friendship was shown strong. And here…she's ready to leave him because of a bunch of flowers…
Kayo almost falls from a waterfall, Tabaluga saves him and Kayo thanks him, as if Tabaluga saved his life. But Kayo did fall from waterfall before and nothing happened to him
Season 3 episode 23(Kayo friend or foe)
Once again Tabaluga forgets he can fly up. He just got the map from Arktos, is it really logical to fly so close to the ground? Why not to fly up to escape Arktos' ice breath? Sometimes Tabaluga just forgets that he can fly up in these seasons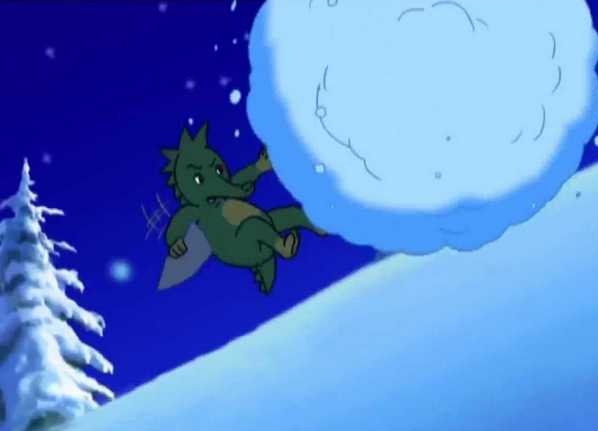 Happy just leaves the map to the last sign in there. Knowing full well that Arktos is right behind them.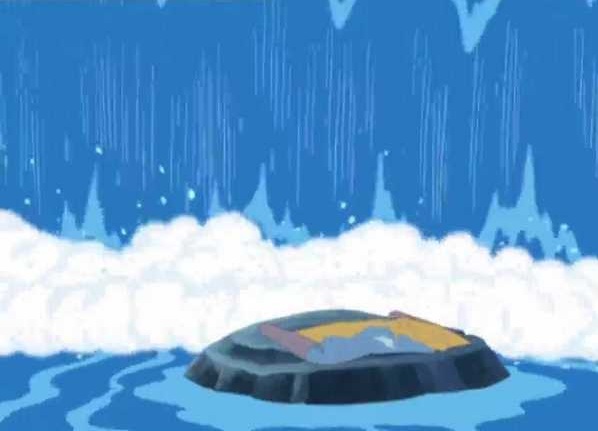 3x24 "Menace in the mountains"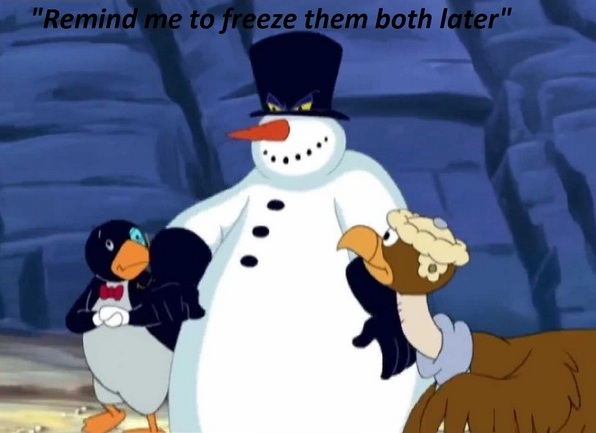 Why not freeze them right now until his friends find him and get him to safety? It's not like Tabaluga is in front of you right now and a threat that you'll lose the sign. And Happy and Digbe are not a threat either. He could just freeze all of them with no consequences.
Digbe happens to fly just into the window where Tabaluga stands. I know there's gotta be some coincidences, but that's too much.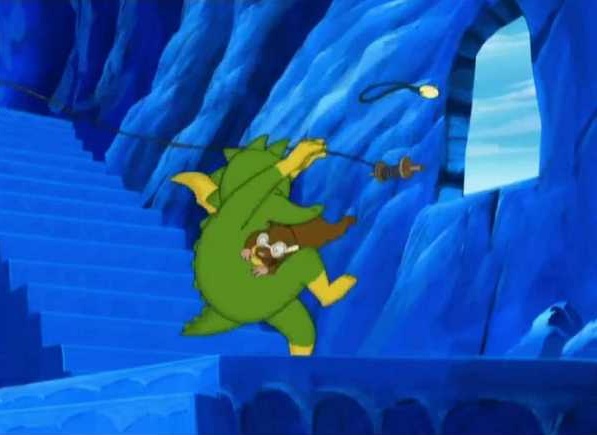 Arktos takes away Tabaluga's powers and instead of falling on the ground right there(would make too much sense I guess) he is taken away somewhere for no fricken reason.  Also reuse of a story about Tabaluga losing his powers which happened just a few episodes ago.
Arktos'es "plan" to prevent Tabaluga from stealing the pendant is to throw a bunch of snow at him from a single catapult.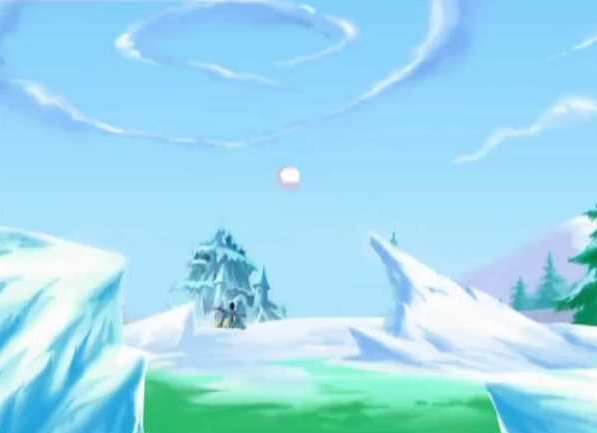 Last edited by TabalugaDragon on Tue Mar 06, 2018 8:23 pm; edited 3 times in total
MAJOR FLAWS
Part 2
And here I am at the paragraph which concerns me the most. Something that...I think is the worst change in these seasons. Something I will never, EVER forgive. The thing that didn't just make seasons 2 and 3 much worse than the first season to me, but what absolutely destroyed the wonderful memory of season 1 beauty and innocence.
Here I will describe... the animal racism. I know it may sound weird to all of you, but it's true. The series that was always about protecting the environment, about equality, now doesn't see any need in anyone else but cute little mammals(and occasionally birds) on Tabaluga's side
It's not just that I care about reptiles so much, they are my favorite animals, that's true(one of main reasons why season 1 is my favorite show of all time), but this way of depiction of Green Land, of creatures Tabaluga needs to protect perfectly reflects the flaws in our world of the way people see animals. You see, most of people prefer cute, warm and cuddly mammals, and not just as pets, not just for looking at them, even animal protecting societies usually reject reptiles, protecting only mammals. I am in one of such societies and I know what I'm talkign about. Almsot nobody cares about reptiles, people are open to protect cuddly and cute mammals, but when it comes to reptiles people just prefer not to think about the fact that reptiles go through the same, and even often worse tortures than mammals. I won't go into all details but believe me when I say that I've seen horrible exampls of people treating reptiles.
In fact the way this series reflects treatment to animals has a huge similarity to movie Zootopia, where creators deny all other animal classes but mammals. And you know what? I'm pretty sure that if Tabaluga wasn't the main character they'd remove him too.
I could upload a lot of pictures of season 1 animals - huge diversity there, but I don't want to put season 1 side by side with this horrendous show that seasons 2 and 3 are.
I'll just demonstrate the way seasosn 2 and 3 treat reptiles. And even though season 3 treats them a little bit better(you can see small lizards here and there), still there are absolutely no reptiles among "the main" greenlanders that Tabaluga protects. And Kayo becomes good 4 episodes till the end of the series. So I won't count exceptions, I will only count the rules these seasons set.
Cutie cuddly creatures, how nice!
Yes, who cares what happens to these lizards later? Tabaluga sure doesn't!
I don't remember Arktos's servants EVER being so sinister-looking. Well guess what? Humsin's are

Says like a sand lizard is something bad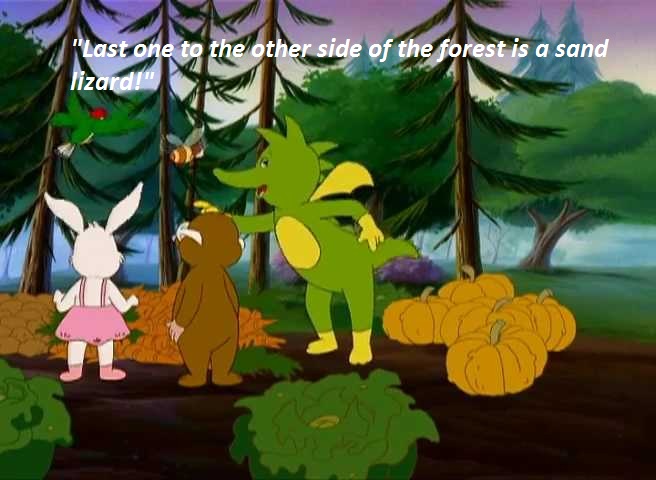 Digbe doesn't like them either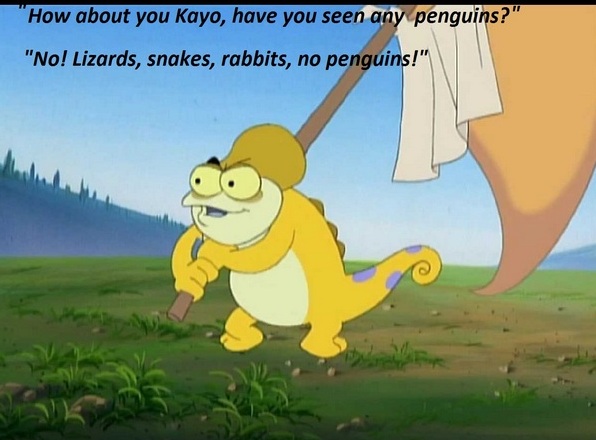 Oh that's funny, because I haven't seen ANY snakes in this season. It's like they exist, but they just don't.
Has anyone noticed, that including Kayo there are
4
kinds of evil\aggressive lizards in season 2?

Tabaluga didn't really care about safety of such lizards in season 2. Now he tries to save it all of a sudden? Oh I get it, he NEEDS this one.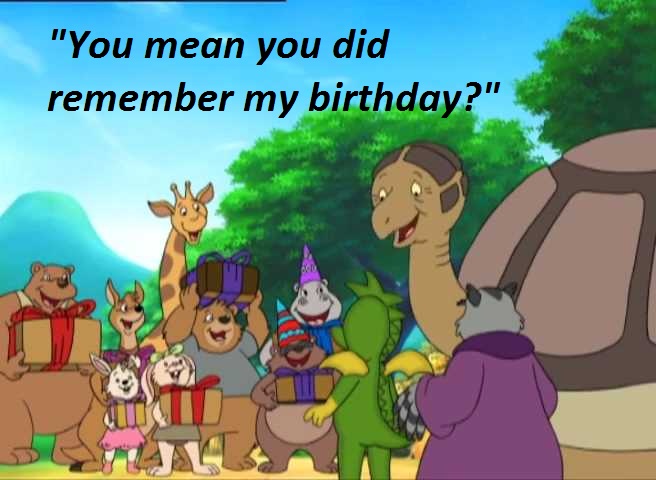 Yes Nessaya, but only mammals, Tabaluga and Shouhu. Nobody else cares about you anymore
Why the hell is this snake so aggressive? Why isn't it intelligent like other animals all of a sudden? Mind you, even worms and all kinds of insects are intelligent in this cartoon, but a snake is not? Oh I know, they needed to show a snake as a threat, not a character and a part of Green Land.
Now Tabaluga is choking this snake? Very nice.
Has anyone noticed, there is
NOT A SINGLE
nice snake in seasons 2-3. In season1 there were
7
And something else I wanted complain about. Something that made season 1 incredibly beautiful, and something that helped season 2 not to turn out as an absolute disaster. It's music. I don't know how were the creators choosing a composer, but music in season 3 is plain bad. Not a single good track throughout the whole season
Just to demonstrate guys, this is THE MAIN action music in season 3. This has no soul, not talent, no passion input into it.
https://www.youtube.com/watch?v=vZH2JNV21kc
And just to remind everyone, how awesome music in season 1 was. And how could it now be? Most(if not all) of it was based on Tabaluga creator's music - Petter Maffay!
https://www.youtube.com/watch?v=ZbbLjHxLUgQ
Last edited by TabalugaDragon on Mon Aug 15, 2016 2:46 pm; edited 2 times in total
Plot holes.
Plot holes are the main reason that doesn't allow me calling seasons 2 and 3 truly a continuation of season 1. And trust me, there are MANY of them here. And if minor flaws\silly stuff(and even major flaws for some) aren't a reason to dislike these seasons for a lot of viewers, then plot holes should definitely NOT be tolerated by anyone. All these inconsistensies just show how careless the creators were when they were making these seasons. Not only they didn't care to watch season 1 before writing their episodes, the writers didn't even have much coordination between each other resulting in massive plot holes even in their own seasons.
And for those who think that seasons 2 and 3 were rather a remake than official continuation then here are some facts for you:
1 They used exactly the same opening season 1 had, season 2 even used the same footage as the first season
2 They used footage from season 1(season 2 episode 1, the episode ending)
3 Season 2 episode "Digby the hero" had a direct flashback to season 1 scene where Digby and Tabaluga met, as well as in the first episode of season 2 where Arktos feels nostalgic about the times when he harrased Green Land and we see flashbacks from season 1 there.
4 On the official site of the animation company they are labeled as "series 2" and "series 3" of Tabaluga, going right after "series 1".
So you can't possibly deny that it's an official continuation. With that out of the way, let's begin.
And I wanna begin with Monarchy. Does anyone remember the scene in season 1 episode "Tree of Life" when Arktos asked Shouhu about Tabaluga "Does he think he's a king of Green Land?" Shouhu replied "No, of course he doesn't!"
There wasn't even a tiny hint on real monarchy theme in the series. Dragons were always leaders and protectors, yes, but not kings.
This was never in plans for this series!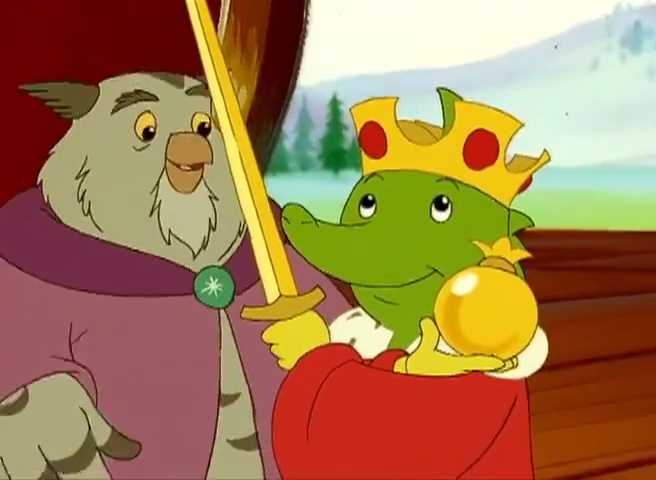 -Humsin can destroy Green Land with a sandstorm but he doesn't do that, it takes him to get to the last episodes to start using his powers in a proper way. And even though he's incredibly powerful he still resorts to sand cannons
-Mirage thing turns out to be very useful, but he only uses it once
-Arktos repeatedly does bad things to Green Land but remains unpunished. They sentenced him to stay in Glass Town in episode 1 and what? In other episodes he freely walks anywhere he wants. Not punishing him after what he does is one of the biggest plot holes in these seasons.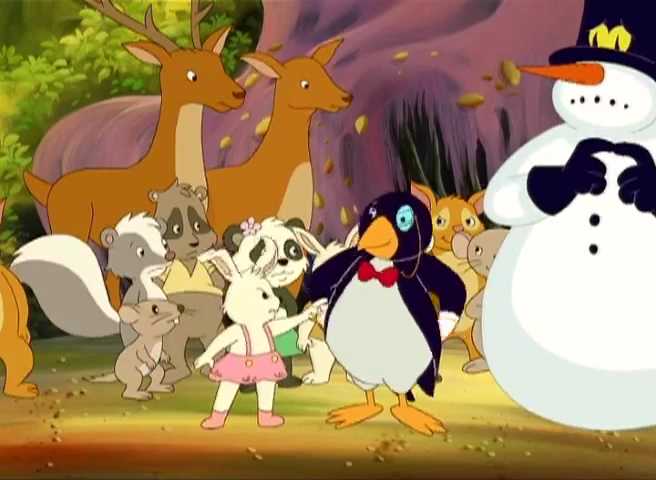 -Arktos doesn't melt, just walks in Green Land whenever he wants.  And I don't see James spraying him all the time in these seasons. Is he even made of snow? He could be without an ice spray in season 1 for like what? 10-15 minutes without melting? Every time he was in Green Land for a while without ice spray he melted. In these seasons(especially third one) he walks anywhere he wants and almost never melts.
-Tabaluga states that Arktos can't freeze him(and judging by the season 1 episode "two birds with one stone" and yet gets frozen on the rollercoaster(look for it in the "Minor flaws" paragraph). Why do they keep changing these rules? Tabaluga is a dragon and he can't be frozen, period. Same thign happenes to Tyrion in one of flashbacks by the way, which is also ridiculous. So a child dragon can withstand Arktos'es ice breath, but an adult dragon can't?
Season 2 episode 9:
"winter can't start until that tree over there lost all it's leaves"
And here I thought that trees lose leaves because of the cold, not just by themselves. Isn't Arktos responsible for making cold time in order for leaves to die and fall off? So all he needs to do is bring cold to Green Land, not the other way around. Besides, didn't he have a special clock which indicated when Winter starts? Why does he need some tree in the first place then?
-when greenalnders grow potatoes and other vegetables Humsin says "why do they grow that rubbish when they could grow beautiful cactuses" I'm Sorry Himsin, but wasn't it you who tried to steal all potatoes from Greenlanders a few episodes ago for potato chips? In fact he's obsessed with potatoes, why would he call it rubbish? He tries to steal potatoes from them many times throughout season 2 so there is zero reason for him to say that.
-in one of episodes Buzz struggles of being unhelpful for making preparation to winter. Why can't he just do what bees do and collect honey? Or Greenlanders don't like honey all of a sudden? Honey would be great to have during winter if you ask me. More of illogical stuff than a plot hole, but still.
-In one of episodes Humsin calls his followers slaves. But it doesn't make sense. Arktos had slaves because he could freeze anyone who disobeyed him. And what would Humsin do? Blow sand at them? And while Arktos had very strong polar bears who could make anyone do whatever he wants, whom does Humin have? Kayo? Even the laughing hyena doesn't seem to do anything. Most of time he's just there… laughing…
-In the episode "Kidnapped" how the little penguins know that the salt they gathered would go to Greenlanders? It would be more logical to assume the people they are slaves for are far too greedy to send salt to someone. Moreover, they couldn't know about the deal "salt for potatoes" because they weren't even in Green Land when the first trade happened.
So Tabaluga is shedding because he's growing up huh? How come after ALL THESE YEARS he didn't grow up a bit? It's season 2 already for goodness sake!
Why would Humsin bring these 2 back to Green Land? No logic in that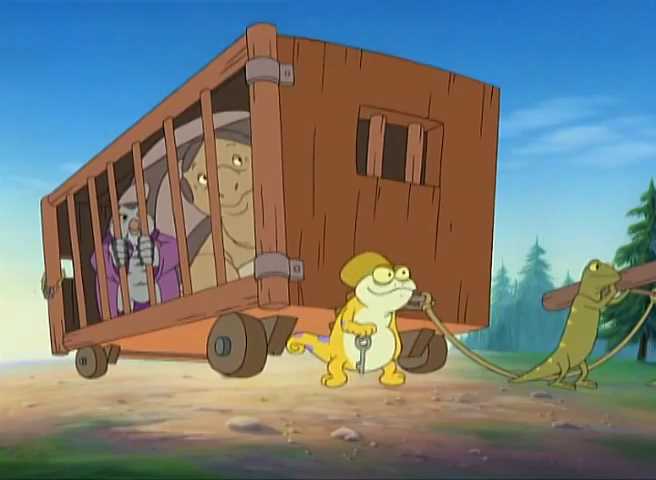 -In the episode 24 "Dragon Mountain" Tabaluga receives the book of dragons from Nessaya. But in episode 11 "The big change" of the same season he ALREADY had both the book AND the dragon pendant.
Proof:
-in the same episode the first trial was using your trouble to your advantage. So the trial KNEW that Arktos would cover the mountain with ice? Same goes for Loyalty test. How does the mountain trial know that there would be a necessity to put someone else's needs before your own? It's merely climbing the mountain, not a month trip or something
-In the episode 25 "sands of Doom" we see Arktos killing Tyrion by freezing him. But we
already
saw how Tyrion died in season 1, and it was nothing like it.
Are the creators aware that events of this series happen about a thousand years after Tyrion died? Why all of the same characters already here? And no, at the time of Tyrion there were reptiles among Greenlanders.

In season 1 it's quite clear that only Shouhu is truly capable of controlling his crystal ball(hence why Arktos abducted him the day Tyrion died in the first place) and yet in seasons 2 and 3 anyone can use it. The whole reason Shouhu was in Glass town in the first season flushed down the toilet and went rotting in the sewers that seasons 2 and 3 are.
The creators of this season probably forgot that in the episode "Digby the hero" Humsin was washed away in water as well, but he was ok. But now he dies? Apparently if it's convenient for the plot, he does.
-in "Tree of Life" season 1 episode it was said that if anything happenes to the tree, the world would become a lifeless desert, and even Ice World, because it's roots go through the whole planet. And yet in the episode "sands of doom" it's cut down and nothing happenes.
A Fire breathing dragon is unable to get through wooden bars
There was an episode in season 1 with a similar situation, but in that case it wasn't Tabaluga's task to get out of that cave. It was to unblock the River of Time. And in this case they specificly try to get out.
What the heck? He turned into a sandstorm many times, and even easily gets washed away by water and he's perfectly fine after that. WHY can't he get through these bars?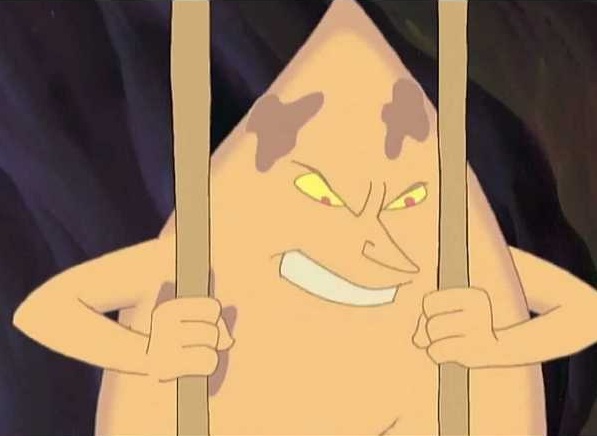 -In season 1 we never saw any pendant on Tyrion, yet in seasons 2 and 3 he wears it. Consistency? Who cares!
So, Tabaluga tricks Arktos to follow him so Green Land was safe. Why not just put Arktos in a cage for the time you're looking for the signs? It's THE LEAST he deserves after breaking the pact of not freezing Green Land several times already. After doing it he should have "vanished from this planet" several times now. And yet Tabaluga still does nothing to stop him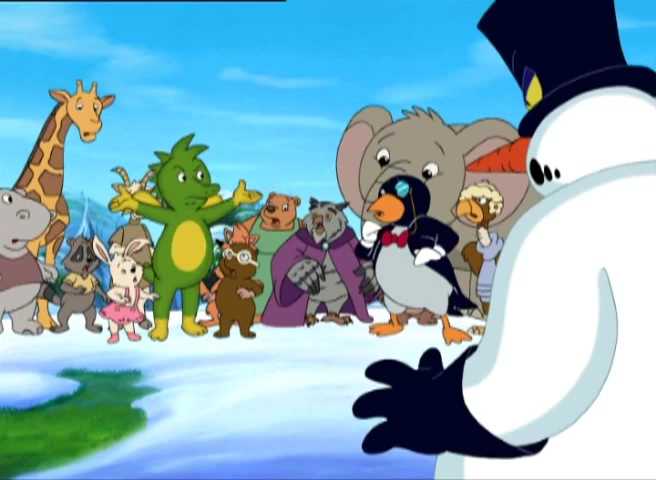 The fire people become angry at Tabaluga and his friends after they say they came for the fire sign. But why? Why would Tabaluga tell them about it if he really came to steal it?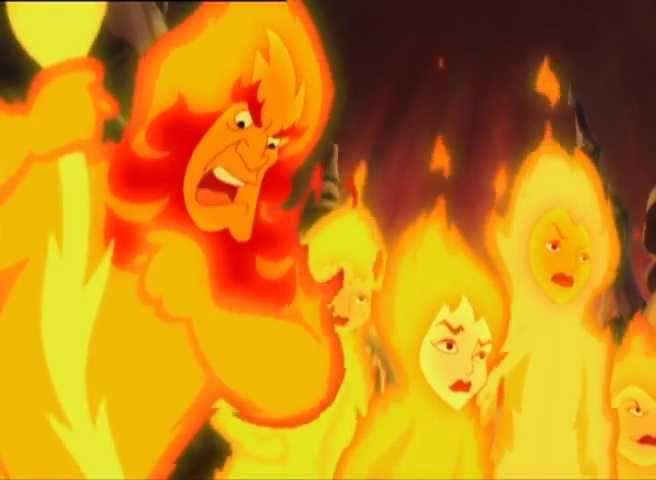 Why can't Arktos just freeze Happy here instead of running away?
Since when is he working for Arktos again? I thought he left saying that he doesn't need this job a few episodes ago.(season 3 episode 7)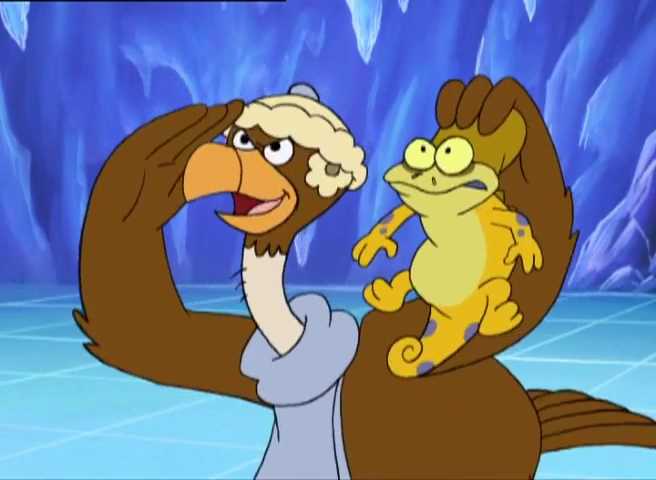 Ok, how the heck did Tabaluga get the sign?  There is no Way Arktos would give it to him. Arktos sent him to get the book before, but it was obviously to bring it to the Ice World, not to find out it's secrets at the spot. And Tabaluga didn't suspect Arktos before, otherwise he wouldn't have tried to burn the villiage as Arktos commanded him.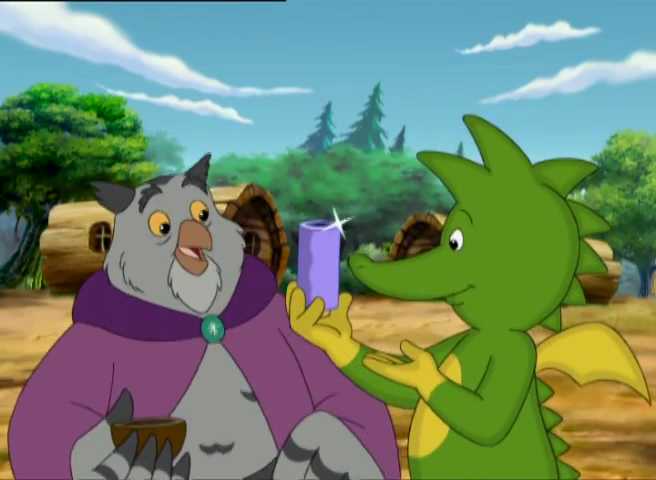 Shouhu has to explain Digby and Happy why they need Arktos. Wasn't it clear in season 1 finale?
"Tyrion once said that ice and snow are essential to the balance of our planet…. If we destroy you, we'll destroy part of ourselves. " So everyone, including Tabaluga forgot that I see.
I'm pretty sure that's not how it works Shouhu. Also the tree of Life is responsible of keeping the water balance in the world., not Arktos.
Oh wait, it was cut down and nothing happened… never mind.
Also what the heck? They are talking about Arktos making winter is a necessity, but he doesn't use any special powers for it(like he did in season 1 finale) he MERELY USES SNOW CANNONS and other devices like them. THEY DON'T NEED ARKTOS for making winter the way he does it in seasons 2 and 3!
WHAT THE HELL?SERIOUSLY WHAT THE HELL WAS THE WRITER OF THIS EPISODE THINKING?
What was this then? If you completely cross off the events of the original series you DON'T make the series with the same opening, characters and you don't include flashbacks from that season. This is freaking brainless!
I'm sorry, but this episode just made me rage out. Moving on to the next incredibly huge plot hole in this episode.
And here's one of the biggest plot holes in season 3.
Did the writer of this episode even see the episode the River of Time originally appeared in? If he did, he would know that when Tyrion was a kid, Arktos was an adult already, long ago.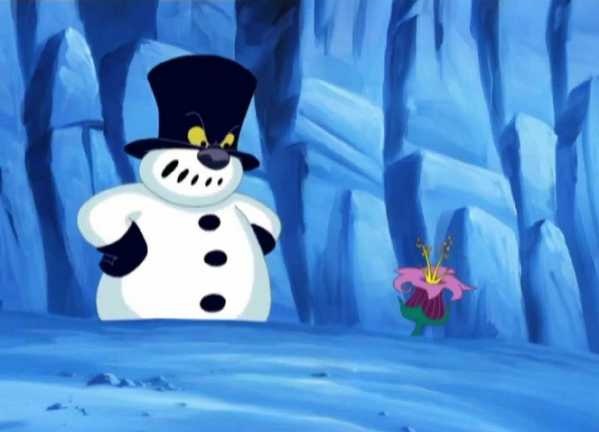 What a ridiculous way to show an origin story
The adult Arktos wasn't nearly THIS powerful. Until he got magic powers that is, which happened about 2000 years later. And when they got them, they worked differently too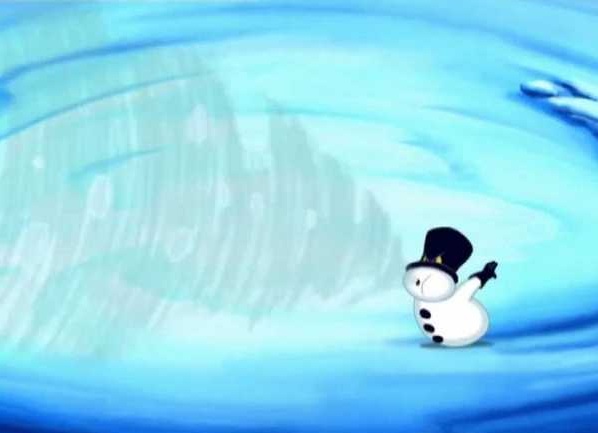 Arktos spends a lot of time to make a trap for Happy and Digby. But why?  Isn't it easier just to freeze them now when Tabaluga is not around?Also, why didn't he just freeze them after they fel in there? His victory over them would be guaranteed then, less people to follow him.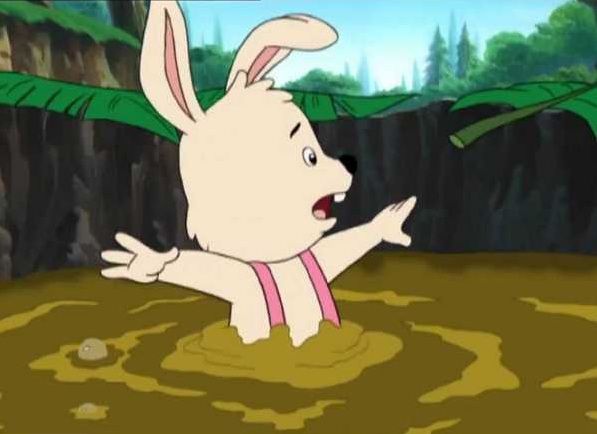 Rex swam away in season 1 finale. So they are telling us that Arktos caught the same shark in a huge ocean again.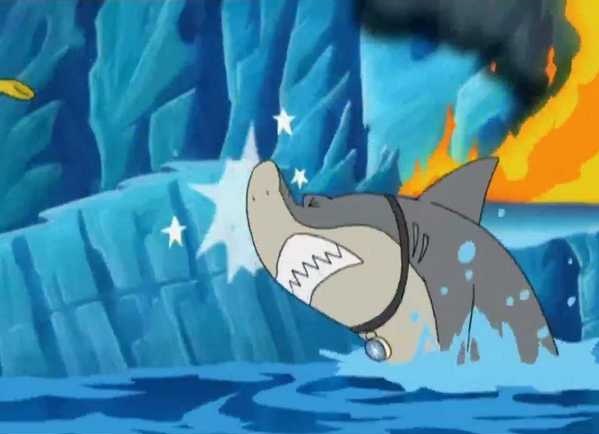 Oh it's about time they remember the chess theme all of a sudden. Without it being in any previous or following episodes. "Hidden chamber" is the only episode they appear in. Well ok, I accept the possibility Arktos wants to play them once again but… where did these penguins come from? First, all penguins were released in the end of season 1, these chess pieces were his slaves. And second, we never saw them before or after, so what? They all were sitting all these years doing nothing, and Arktos suddenly calls them so he could play? I doubt any of them would agree, since they aren't slaves anymore. This scene makes no sense! Polar bears are also working for him all of a sudden.
(season 3 episode "Who is who")
In this scene Buzz is cautious about telling James about Tabaluga's plans. But why? Isn't Tabaluga supposed to keep Arktos busy so he wouldn't freeze Green Land while he's looking for dragon signs?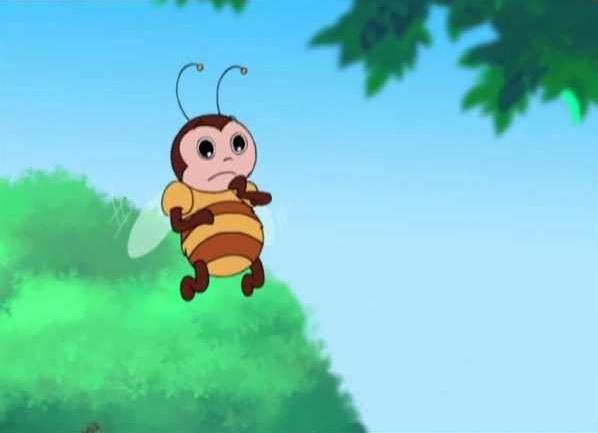 "I'm sorry Arktos, but season 2 finale would not agree with you. You're also way more powerful than before.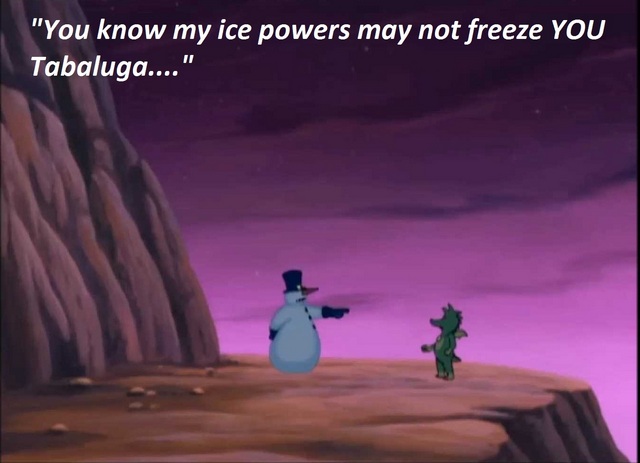 Season 3 episode 25
And what good would that do? Those 2 bears wouldn't be able to stop Arktos. He would have frozen them. Or went to the Dragon world before you.
Since when is James so disloyal? For all 3 seasons he's been incredibly loyal to Arktos and cared about him. And now he doesn't try to break the ice around him all of a sudden?
Also what happened to them being in need of Winter? Yes, screw the 4 seasons idea of the world balance.
Also, the way Arktos gets frozen in the finale is plain riduclous. All these seasons his breath was quite wide, in the final episode it was reduced to a very thin ice cluster so Tabaluga could reflect it on him with a tiny crystal ball.
MANY characters are missing in these seasons that were present in season 1.
Can't be better than dracosaurus, who you successfully got rid of
It's a huge shame that they were never shown in seasons 2 and 3 again. To me, Fox Dandy and Dracosaurus were the highlights of the first season, and even though they were in just 2 episodes each, they still made it so much better! And when they both were shown in season finale it was a perfection
Verdict
Like I said in the introduction, these seasons were so mediocre to me, it was a torture. It was especially a torture to watch them and review them. Yes, I do realize that this is a kids show, it's not supposed to be super smart. BUT the creators
already
had a season that was beautiful, intelligent and had great moralities - friendship, kindness, environment protection and many others. Seasons 2 and 3 were merely a cashgrab, designed to suck money out of a succesful project which season 1 was, with zero care for the story and soul that original series had.
They aren't just bad compared to season 1, they are actually some of the worst cartoons I've ever seen. I'm not saying there aren't worse animated shows than seasons 2 and 3, but what these seasons did to a masterpice that season 1 was is unforgivable. Again, I am not saying that season 1 was perfect, it did have it's flaws, but not even close to the amount seasons 2 and 3 had. Even though it was messy and had goofs from time to time, you could clearly see a huge effort into creating characters, scripts and the overall season story. The latter seasons only used that to their advantage and nothing else.
In the end, I'm truly happy that I went through them for the last time and will never return to them again, for they are not worth mine, or anyone's time. If you enjoy them, good for you. But I can't poosibly enjoy a cartoon that spits in the face of the sourse material.
Last edited by TabalugaDragon on Thu Sep 08, 2016 10:21 pm; edited 1 time in total
hi sergey,although i like all the seasons i think the 2nd and 3rd one are quite strange anyway,i mean there are many incongruities.you wrote very well about almost all of them,let me just add what i mentioned in the private messages i sent you so that the other users can see my point of view.

1tabaluga falls into a volcano in an episode and seems to be afraid,it's unclear why.vulture and humsin think he's dead...but tabaluga said fire and lava couldn't burn dragons in the 1st season!
2why does an owl like shouhu have a beard?
3skunks,polecats etc. emit a foul liquid to defend themselves,they don't fart!
4why does happy perform a heart massage on tabaluga's tummy and not on his chest?ok maybe a dragon heart-which is composed of 8 parts as far as i know-is in a strange position,dragons are legendary animals after all.
5tabaluga didn't use to wear a diaper and already used to speak well as a hatchling...so why does sparky wear a baby blue diaper and can't say "tabaluga"?

well,that's all for now.what do the other users think?




Animalista 87




Anzahl der Beiträge

: 1


Anmeldedatum

: 2012-10-06


Alter

: 31


Ort

: Crema,Italy



Yes Animalista 87, I agree with everything, they are definitely flaws!
Though I mentioned about skunks in the "Minor flaws" category, it's deinitely silly and unnecessary! I just don't remember when Happy did Tabaluga a heart massage, it would be very nice if you or someone else who rememberes that scene told me from which episode is it, I can't remember it.
And another huge plot hole I dicovered lately after rewatchign season 1 finale(and added in the "plot holes category) - in season 1 only Shouhu had full control over the crystal ball, he could even control it from a big distance(he disabled it when Arktos tried to use it withotu him in season 1 finale), and in season 2 anyone can use it . What was the point of abducting Shouhu the day Tyrion died in the first place? Why not just take the crystal ball? In season 1 it was quite clear only he has full control of it. By the season 2 episode "Tabaluga's fortune" they crossed away the reason for Shouhu being in Glass town whole first season!


Similar topics
---
Permissions in this forum:
You
cannot
reply to topics in this forum